Jesus not only wants to make Midlothian a better place, He's good news for people all over the world. Find out how you can impact the world, join us on a mission trip, and support those called to move their families around the world to share the good news of Jesus.
Want to know more about helping out in one of these areas? Send us an email and we'll get you all set up.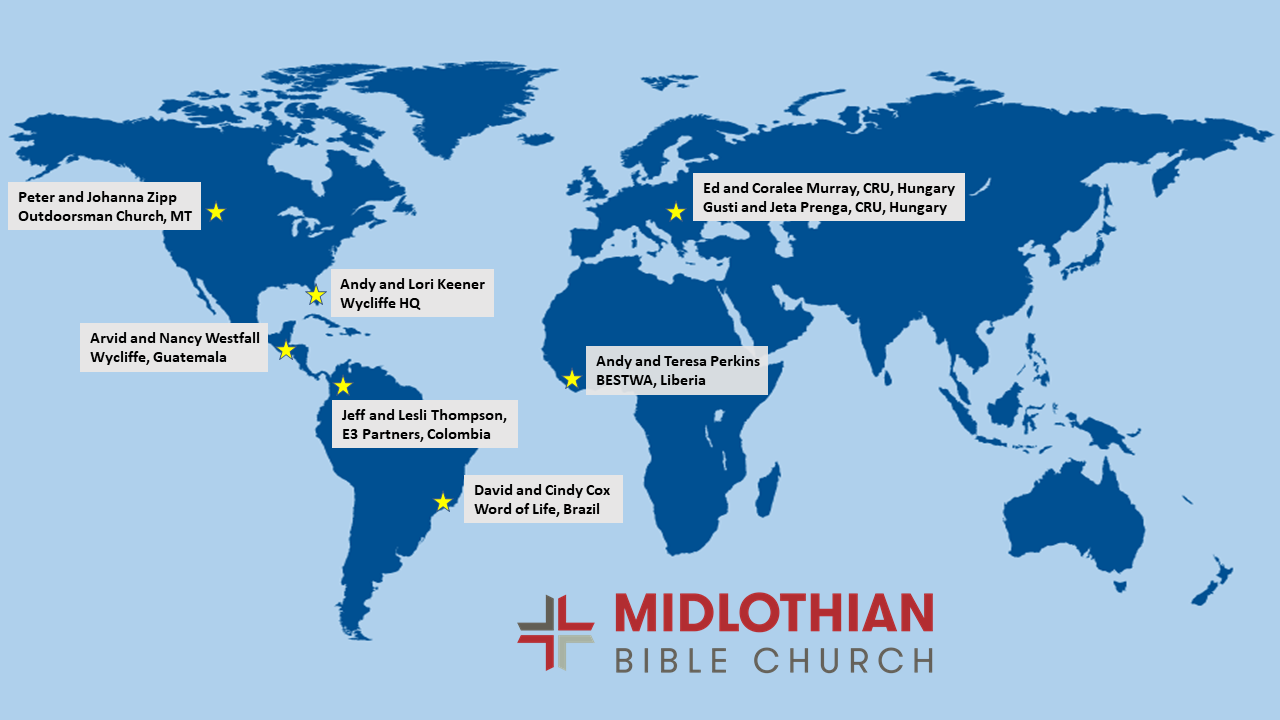 Missionary Families We Support
world impact | local footprint
Mission Spotlights!
North Texas Food Bank disaster relief mobile pantry will be in the MBC main parking lot on Nov. 4th from 9:30AM to 11:30AM.
There are no income or residency restrictions.
To volunteer to help please go here.
Wycliffe Bible Translators - Andy & Lori Keener
The Worldwide Status of Bible Translation:
At least 7,000 languages are spoken or signed around the world.
At least 1.5 billion people do not have the full Bible in their language — that's more people than the entire continent of Africa!
More than 1,500 languages have access to the New Testament and some portions of Scripture in their language.
Almost 700 languages have the complete translated Bible.
At least 2,000 languages still need a Bible translation started.
Work is being done in more than 2,700 languages worldwide and over 2,100 of these projects involve Wycliffe Global Alliance partners.
Andy and Lori Keener serve with Wycliffe Bible Translators. They grew up in Pennsylvania and were called into the ministry of Bible translation around the age of 20. They first served in Central America, researching Bible translation needs among Caribbean people that speak Creole languages. Later, they spent 9 years serving the Teribe people in the jungles of northwestern Panama, where together with a group of mother-tongue translators, they translated the New Testament and portions of the Old Testament. Since that time, Andy has served in various leadership roles, both in the Americas and in Sign Language Bible translation for the Deaf worldwide. Today, Andy serves as the Senior Director of Global Partnerships for Wycliffe, building relationships with churches, denominations, and Bible translation agencies in countries around the world, so that Wycliffe can serve them as they seek to see God's Word made available in the communities and languages where they minister.
Believe. Belong. Build Up. Be Strong.
© 2020 Midlothian Bible Church