Jesus not only wants to make Midlothian a better place, He's good news for people all over the world. Find out how you can impact the world, join us on a mission trip, and support those called to move their families around the world to share the good news of Jesus.
Want to know more about helping out in one of these areas? Send us an email and we'll get you all set up.
Missionary Families We Support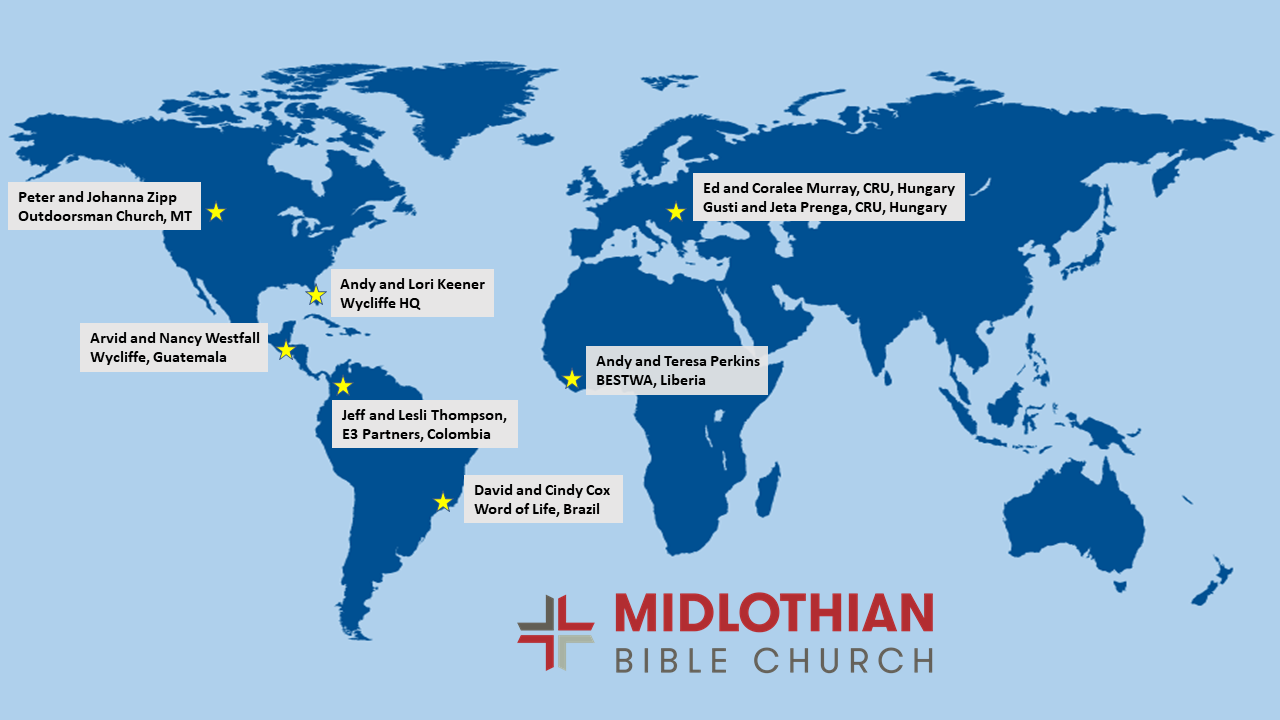 Mission Spotlight !
BESTWA -Andy & Teresa Perkins
Andy Perkins is the founder and Board Chair of BESTWA. Andy and his wife Teresa have 6 children and 17 grandchildren. They live in Grand Prairie, Texas and attend Midlothian Bible Church. Andy first traveled to Liberia in 1998 to help with a pastors' conference, and has been returning ever since. After working in various capacities to meet the practical needs of the Liberian people, Andy founded BESTWA.
The BESTWA Feeding Program
Every day, 1,057 Liberian children in extreme need receive food, emergency medical care, education, and the love of Jesus!
Through your generosity, the BESTWA Feeding Program has grown from 150 children, to over 1,000 children. Over the last 10 years, countless lives have been changed for the better because you care enough to help. THANK YOU!
Sponsor a child for $28 a month
The Pregnancy Support Network
Babies with mothers do better than babies whose mothers die. In partnership with local health workers and international experts, we are continually working to find the most effective ways to keep mothers and babies from being separated by death. You can help prevent orphanhood by providing:
Clean Birth Kits: Developed by the World Health Organization, this seven-item zip loc bag includes the essential items for giving birth, and prevents 50% of the infections that kill mothers and babies. Provide 10 birth kits for $50, or provide 100 clean birth kits for $500. *
Targeted Grants: In cooperation with local health workers and mission organizations, we provide supplies, and repairs to overtaxed Liberian medical facilities that care for pregnant women and babies. Support local medical facilities on the front lines of the battle to save lives.
*If you want to assemble clean birth kits, email candi@bestwa.org

Believe. Belong. Build Up. Be Strong.
© 2020 Midlothian Bible Church