Weekly Update – March 25, 2020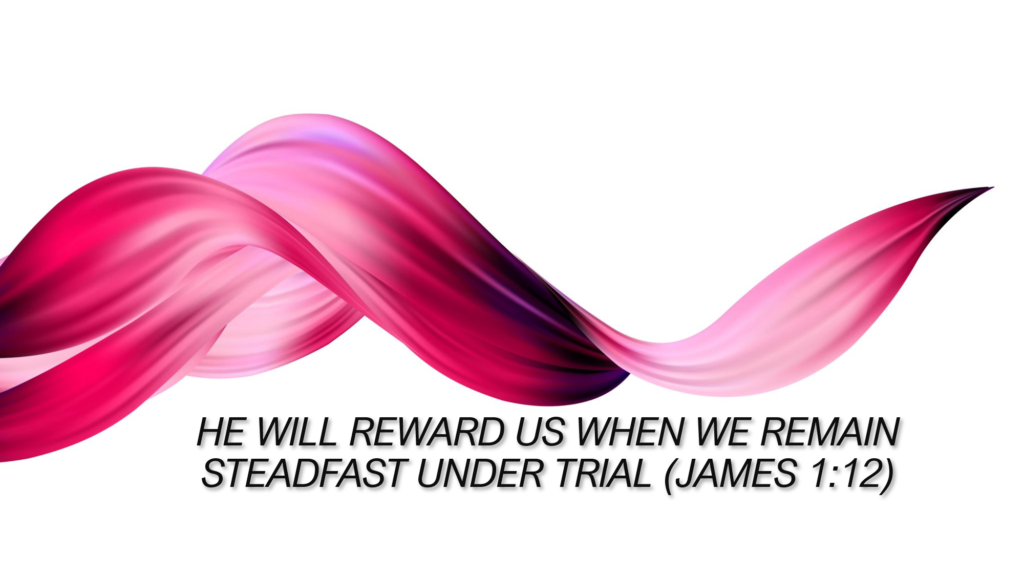 Hey, MBC Family!
The theme of Matt's message this past Sunday was replacing fear with prayerful dependence on God. I loved that. However, in appropriate amounts, fear can be a gift from God. It heightens our senses and makes us more aware of our surroundings. It is essential for survival. So where is the balance between fear and prayerful dependence? Can we embrace a sharpening of our senses while still maintaining a sense of peace and calm? As I talked with Mike about intersection of healthy fear and faith, I came up with an example which might help explain how we can have both—a little bit of fear overcome by a whole lot of faith and dependence on our Heavenly Father.
Mike and I both love roller coasters. I went on my first roller coaster during a choir competition at Hershey Park (Pennsylvania) when I was in the 8th grade, and from that day on I was hooked. Mike, being a pilot, has always loved amusement park rides that go fast and high up in the air (Except those that spin. Mike hates spinning. In fact, spinning to any pilot is very bad. Go watch the movie Top Gun if you don't believe me.) So when we have visited amusement parks, we like to "help" our children overcome their innate fear of these high-speed steel trains. Usually we "help" them by offering some sort of delayed gratification or reward for them to enjoy AFTER they ride (yes, purists might call that a bribe, but hear me out).
To motivate our first-born to ride the "Superman" roller coaster at Six Flags Fiesta Texas, she only needed the promise of a $20 bill. Done. Our son, Josh, was even easier. He overcame his fear of the "Rockin' Roller Coaster" at Disney's Hollywood Studios with the promise of a frozen lemonade. Chloe rode Space Mountain and came home with a Stitch stuffed animal. Our second-born's story had a similar beginning, but included a twist.
One trip to Disney World, Abby saw a tye-dyed, rainbow t-shirt at the "Rockin' Roller Coaster" gift shop and her eyes shined with longing. It was the perfect incentive for us to use to help her overcome her fear. While she was just tall enough to meet the minimum height requirement for the ride, she was filled with the maximum amount of terror. This bore itself out as she cried quiet tears the entire time we snaked our way through queue. We finally got to the front of the line. Mike ducked out to ride in a car with our other daughter, and I was left as Abby's "Ride Buddy."
We strapped in and pulled down the safety bars. Abby was openly sobbing at this point, and I was starting to feel a blush of embarrassment as others looked at me in harsh judgment. I continued to console her and reminded her of the prize that waited for her at the end of the ride—the beautiful rainbow t-shirt. It didn't help. By this time, even I was praying that we could just get the whole episode behind us. Then, one of the ride attendants looked at Abby, at me, back at Abby, and signaled for the ride operator to halt. The. Entire. Ride.
He approached the side of the car that Abby was on, and got down on his knees so he was eye-to-eye with Abby, and stated with no apology whatsoever, "Young lady, we are about creating magic here. If you don't want to ride this ride, your mother cannot make you." And with that he gave me an evil, condescending glare, as did everyone else standing in the line waiting to ride the next train. I was mortified and looked away while trying to shrink into the back of my seat. Mike pretended like he had never seen either of us before. "Now if you, and not your mother, really want to ride this ride, you need to give me a thumbs up. If you don't, we'll get you off right here and there's nothing your mom can do about it. But only look at me. Not your mom. I need to see your thumb up."
"So what will it be?"
All of us held our breath. I was almost afraid to look. But I had to know! What would she choose??? I caught a glimpse of her fist out of the corner of my eye. At first, it just looked as though she was getting ready to punch the seat back in front of her. However, her thumb creeped upward, and before I fully saw what happened, the ride attendant yelled out, "Okay then!" and we took off.
I couldn't see much of her during the actual ride, but after the first loop, I did see that she managed to crack a tearful smile.  By the end of the ride, she was beaming.  Not only had she conquered her fear, she knew a prize was waiting for her in the gift shop.  The rainbow t-shirt.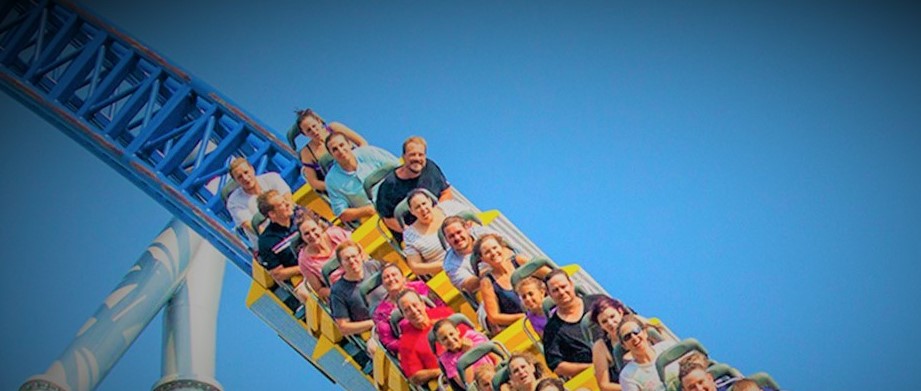 So how does all this relate to corona virus and Matt's sermon on overcoming fear with prayerful dependence?
  My point is this–Abby was able to overcome her fear because:
She wanted the reward.
She trusted us.
She knew that we would be faithful to our word. If she faced her fear, we would reward her in the end.
Break. Break. Life is hard. Life is also scary. Sometimes, it feels like a roller coaster. (Do you see where I am going with this?) However, our Heavenly Father has made a promise to us. Many promises, actually. Including, but not limited to:
He will never leave us nor forsake us (Hebrews 13:5b-6).
We can do all things through His strength (Phil 4:13).
He will reward us when we remain steadfast under trial (James 1:12)
These rewards may not be on this earth, but they are coming. And according to Ephesians 3:20, they're exceedingly, abundantly more than we could even ask or imagine.
Sometimes, we just need to grab onto our heavenly Father's hand, suck in our breath, and get ready for the ride. It might feel too fast. Too steep. Too scary. But God's got this. He designed the ride. He knows it isn't going to fail. And He has promised us a special reward at the end. The fact that God raised Jesus from the dead shows that He is all-powerful. He can be trusted to do what He says. And, just like the rainbow on Abby's desired t-shirt can remind us, God always keeps His promises.
Noteworthy:
To be honest, we're all kind of watching to see how the COVID-19 crisis will play out. Mike and I live in Tarrant County and as of midnight tonight, we are ordered to stay in our homes. We've heard that Ellis County has issued their own order. While we won't be in the office, I know the entire staff wants to stay connected to all of you. Please continue to email us your prayer requests, questions, and feedback. (Click here) While there won't be someone there answer your calls, PLEASE leave a voicemail! This goes straight to my inbox as an email. I WILL CALL YOU BACK!
The building will now be closed, but we want to do everything we can to stay connected to you. In fact, we will be live streaming our Wednesday night youth worship and teaching time on our Facebook page and our YouTube channel. I will send out these links as they become available tomorrow. We are particularly excited to have people join us because the worship and teaching will both be led by Ezekiel Garcia, one of our youth pastor candidates! Youth will have the chance to join small group breakouts via zoom after the main session by clicking on one of the following links:
I hope you've gone ahead and subscribed to our YouTube channel! Click here This is where we will be live streaming all of our sermons from in the future. In addition, we add new content almost everyday, and I have curated playlists for encouraging songs, Bible stories for kids, devotions for women, KETO recipes, movie reviews, and Bible study aids. Matt will also be launching his "Psalms to Calm the Soul" series there soon. And we'd love to put up even more of your content! So record yourself playing a favorite hymn on the guitar or piano. Talk about something the Lord has been teaching you. Share a way to get through a tough teaching day with your kids. And send me the link to the video. I'd love to include you in this online community.
As I mentioned, the service this Sunday will be live-streamed again on our Facebook page and our YouTube channel. Please make an effort to pray for each other. Stay plugged in and connected to your LIFE groups. In fact, the Revelation study LIFE group will be "zooming" starting this Sunday. Don't feel like you had to start from the beginning. Mike would love to have you join the study. Email me (click here) for more information if you are interested in joining this group.
So while you may feel like you're riding an out-of-control roller coaster, know that the One sitting next to you has the whole world in His hands. He's got you. And He's got this. He'll reward those who choose faith and prayerful dependence over fear.
In service to Him and to you,
Heather Hogue