MBC WEEKLY NEWS – October 22, 2020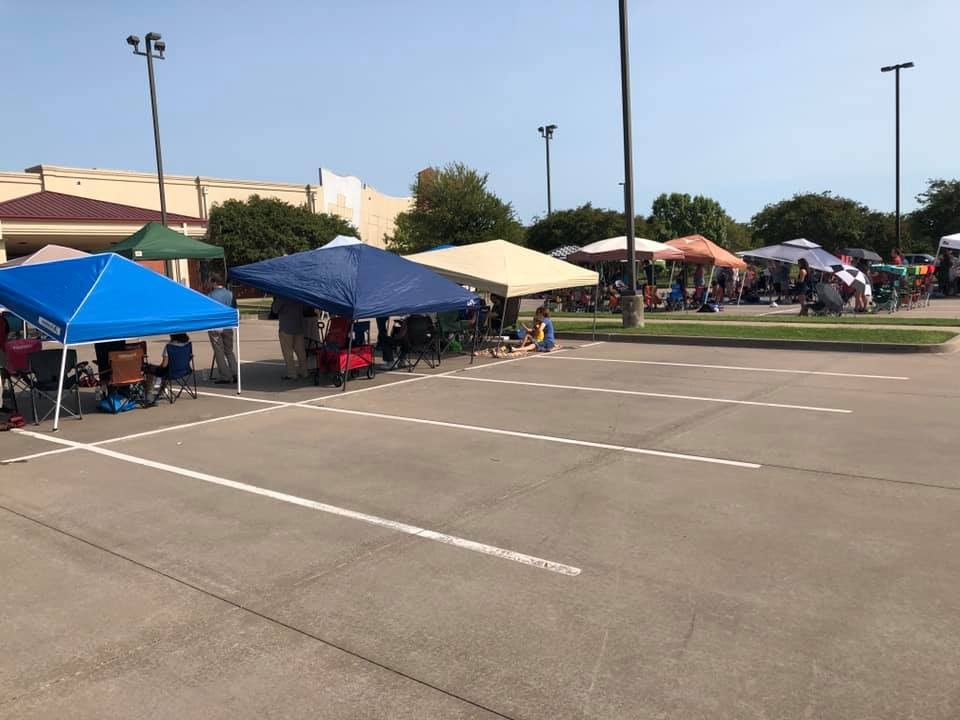 weekly update – 10-22-2020
This update will be a little out-of-order, but we wanted everyone to know that since the forecast is for beautiful weather this weekend, we decided to jump on the opportunity to have ONE OUTDOOR SERVICE THIS SUNDAY, OCTOBER 25th AT 10:30am! (No family service!) Bring lawnchairs and an awning if you have them, but know that we will have extra chairs on hand if you don't bring your own!  We have posted the lyrics for the songs on our website (click here), but we will also have paper copies on hand for you to use. Finally, here is the link for the livestream in case you'd prefer to watch from home: https://www.youtube.com/watch?v=ocqjBwo1lh4
Noteworthy
Community Outreach Opportunities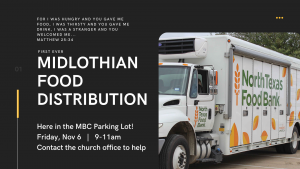 The North Texas Food Bank will be having its first-ever Mobile Pantry in Midlothian here in the MBC parking lot on Friday, November 6 from 9-11am.  If you or anyone you know could benefit from some free fresh produce and groceries, please stop by!  Feel free to tell others since there are no residency or income requirements to receive a box!  Also, we still need volunteers to direct traffic and pass out food.  However, you MUST preregister and sign up at the following link: https://ntfb.volunteerhub.com/event/index/12661722  If your schedule allows, we would love you help in serving the community this way!
Don't forget that MentorsCare needs adult mentors for at-risk high school students at Midlothian Heritage High School.  See the table in the Hub for an application or call the church office for more information.  If enough people from MBC sign up to be mentors, they do a training here for all of us at once, so let me know by clicking here if you're interested!
MBC Kids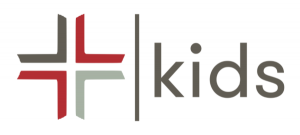 Starting the following week on November 1st, we will be going back to one service at 10:30am, and we will offer Children's Church to our elementary-age congregants!  Please be on the look out for new registration procedures, as children will need to check in before the service begins—NOT in the middle of the service as they did before.  We still need volunteers to be able to offer Sunday School for children at the old time of 9am, so if you feel led to serve as a Sunday School teacher or as a Children's Church helper, please let Lydia Weldy know by clicking here.
MBC Students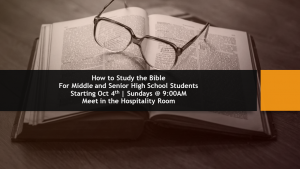 Just a reminder to join Tyler Larson for his "How to Study the Bible" series on the book of Ephesians in the Hospitality room from 9-10am Sunday mornings.  Donuts are provided!
Sermon Recap for 10/18/20
Series: Growing as Disciples Who Make Disciples
Title: OUR POSITION IN CHRIST
Passage: Romans 6:1-19
Outline:
We were slaves to sin  (Romans 6:6, 17-18)…

and sin is a BAD MASTER!!!

We have been united with Christ (6:4-5)….

Our slavery to sin is OVER!  We have been set free from sin and now can say, "NO!" to our old master.

We are compelled to consider…(6:11-14)…

Ourselves dead to sin and alive to God in Christ Jesus!!!
Whenever I hear a message on our position or identity in Christ, I always picture when the Rafiki, the monkey, takes Simba to the reflecting pool on the plains of Africa from the movie, "The Lion King."  When Simba expresses fear and uncertainty about returning to the rest of the pack at Pride Rock, Rafiki says, "Remember who you are!" Rafiki reminds Simba that Simba is the son of the king.  While it might have been fun for Simba to roll around in the mud and eat bugs, it wasn't how the king of the jungle should act.  Simba had responsibilities that came with his identity, and he needed to step up and assume his position as rightful heir to his father's kingdom.
While not perfect, this is a good picture of how we, as believers, out to consider ourselves.  We may like laying low and getting dirty with sin. It's easy to fall for the lie that sin is the better choice or that it still has dominion over us.  However, it's not true!!! We are children of the King of ALL Kings, and along with this position comes a new identity.  We choose not to sin–not out of fear of losing our salvation!  We choose to follow Christ away from sin even when it's hard because it's who we are.  And we know we can say "No!" to sin because:
We can do all things through Christ who gives us strength (Phil 4:13)
God has given us a Helper who dwells in us! (John 14:16-17)
He (Christ) has given us all things we need for things pertaining to life and godliness (2 Peter 1:3)
God is faithful and he will not allow you to be tempted beyond your ability (1 Cor 10:13)
God's grace trains us to renounce ungodliness and worldly passions (Titus 2)
I will end this update with this benediction from Jude 24-25, "Now to Him who is able to  keep you from stumbling and to present you blameless before the presence of his glory with great joy, to the only God, our Savior, through Jesus Christ our Lord, be glory, majesty, dominion, and authority, before all time now and forever. Amen."
In service to Him and to you,
Heather Hogue