MBC WEEKLY NEWS – SEPTEMBER 22, 2020
SERMON RECAP FOR 9/20/2020
Title: Preach the Word
Passage: 2 Timothy 4:1-5
Preach the Word
Remember your direct report (v 1 & 2 Cor 5:10)

Two Implications:

Take your calling to serve seriously (James 3:1 & Hebrews 13:17).
Take courage! Jesus notices when others do not.

Preach the Word fully (v 2)
Be aware of the cultural challenge (v 3-4)
Preach the Word with perseverance (v 5)
THOUGHTS…….
Some of you know that we have a dog.  Her name is Annie, and she is a 73-pound Lab/Blue Heeler/Great Pyrenees mix.  Last year, about this time, we took her to a dog park near our house.  She and another dog were having a great time chasing each other and play-biting. That night we noticed a small cut by her ear. Over the next few days, we saw her take her paw and scratch at the injury. Then, we noticed her rubbing her head on the sides of her dog crate. Soon after that, she began to scrape her head on our walls, on the corners of our furniture, and on anything else she could. A large bald spot began to emerge on her head by her ear.  Eventually, we had to take her to the vet for medicine and the crowning of all dog humiliations—the cone of shame.  Why?  All because she couldn't withstand the itch from the cut on her ear as it healed!  Can you guess where I'm going with this?
In 2 Timothy 2 4:3-4, Paul talks about a time when people will not endure sound teaching, but having itching ears they will accumulate for themselves teachers to suit their own passions, and will turn away from listening to the truth and wander off into myths. Just like our dog was willing to do just about anything to relieve her itchy ear, my guess is that many humans will also do almost anything to avoid the conviction they feel in their hearts when the Word of God is preached accurately.
I had a friend once confide in me that she went to church to feel good and be inspired.  At least she was honest.  Now that I know better, I might gently suggest that someone who preaches the Bible rightly does inspire—people to examine themselves and repent.
It's funny, too, because like in Matt's illustrations about the auto repair shop and the doctor's office, I'm sure my friend would find another repair shop if the mechanic hid the truth to make her feel good about her car instead of telling her what was actually wrong with it.  And I can't think of anyone who would rather be told that they were in good health when they actually needed life-saving medicine–just because the doctor didn't want to risk offending that person.
But not so, when it comes to modern-day church goers. The itch to feel good and be inspired is strong.  However, we all need to be very careful.  We can't run from Bible teacher to Bible teacher with the goal of only getting our ears scratched.  Just like with our dog, Annie, that kind of behavior can lead to a "bald spot"—or worse.  May we all be challenged this week to open up the dark parts of our hearts to the light of all of God's word for healing. It might hurt a little now, but I'm betting in the long run, it will be infinitely better than having to wear a cone of shame.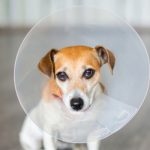 NOTEWORTHY-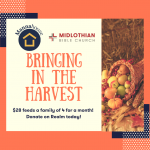 There are only a few days left in September which means there are only a few days left in our "Bringing in the Harvest" Challenge to raise money for Manna House, a local ministry that provides food and other resources for the underprivileged of Midlothian.  $28 feeds a family of four for a month, so for every $28 donation, you will receive a 28% off coupon to shop at Heaven's Attic, Manna House's thrift store, and we will enter you in a raffle for some Manna House merchandise and a $100 Chick Fil A gift card!  You can donate on our website by clicking here and selecting "Giving" from the top menu bar. You can also leave a check with Mary Curry in the Hub on Sunday.  Click here to watch a short video with more information about Manna House and its mission!
Wednesday night ministries are back—and charging full speed ahead!  Please join us from 6:15-8pm for Bible studies for both men and women, activities for middle and high school students, and our CrossKids program for children. Registration for Re:Generation has closed, but the Re|Engage program to strengthen marriages remains open for newcomers until October 14th.  Contact the church office (click here) for more information on any of these programs.
Many of our Sunday morning adult LIFE groups have resumed meeting in-person here up at the church. Make sure to touch base with your group to find out when and where they are meeting next!  To find out more about what Sunday school classes and LIFE groups MBC currently offers, email the church office (click here). Unfortunately, we are unable to offer Sunday school for children at this time. However, if you have children, make sure to check out our Family Service in the Senior High School room on Sundays at 10am.  It is kid-friendly and approved for wigglers!  Email Lydia Weldy (click here) for more information.
Make sure to stay connected to us and to each other—whether it be by watching the service on our YouTube channel or by attending in-person.  And the next time a scripture rubs you the wrong way, lean into it.  Pray that God will use His word to cut away and heal parts of your life that are damaged or diseased.  We don't want to leave with our ears scratched if surgery is really what is needed.
In service to Him and to you,
Heather Hogue